"How much do your homes cost?" is one of the most important questions that our clients ask. Because so many factors affect the cost of a new home, the more we know about a project, the more accurately we can answer that question.
When clients initially engage with Unity, we are able to provide ballpark cost information for various design options. As the planning process progresses we refine our estimates until we can provide a fixed-price contract for Unity's scope of work. We believe that anyone building a new home should have the peace of mind that comes with knowing that most of the project costs will be fixed at the start.

Factors that affect costs
Factors that affect the cost of building a new home include the size, the design, the location, the finish selections and the performance level. For example:

Large homes generally cost more than smaller ones.
Complex homes are more costly than simple ones. Counting the corners in a floor plan is one way to assess design complexity.
In some areas local labor costs are high, while in others they are relatively low.
Finish elements such as flooring, cabinets and plumbing fixtures are available in a wide range of cost and quality.
A home built for health, comfort and efficiency is likely to cost more than one that is not. These are qualities on which Unity does not compromise.
Most of these factors affecting cost are within the homeowner's control, although several, such as local labor costs and the cost of site work, are not.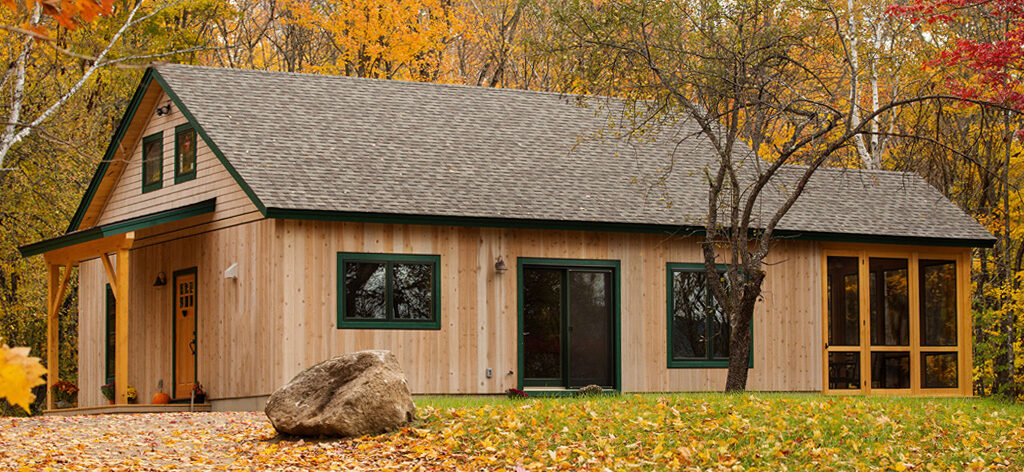 Other factors affecting the cost of a home may be less obvious, but still significant. Has the design for the home already been "cooked," or will it require significant modification? Unity clients who opt to stick closely to our Express or Streamlined plans will realize savings over those whose homes are Personalized. Costs are also affected by the length of time required to build a home, because construction duration affects the financing. Unity clients benefit from accelerated construction schedules made possible by off-site fabrication.

Unity's team members are knowledgeable about the many factors that affect costs, and they are adept at guiding clients through the planning process. (Financing your Unity Home)

Cost estimates
When we provide estimates for Finished House costs, they generally include everything from the foundation up, but not the site work, which tends to vary significantly. At the low end of the cost spectrum, there are versions of Unity's Nano platform that can be built for less than $300,000 in certain locations. The construction cost for many Unity Homes falls in the $600,000 to $900,000 range. On some projects, the choices made by our clients result in costs below or above this range.

One of the many benefits of Unity's design-build process is that we can provide clients with relatively accurate estimates of costs early in the process. These estimates can then guide the decisions about the design, the finishes and the fixtures. Once the design of a home has been configured and choices about finishes and fixtures finalized, we generate a fixed-price contract for Unity's scope of work. By locking in the cost of Unity's work before construction begins, we provide our clients with predictability and peace of mind in a process – building a new home – that can otherwise be filled with uncertainty.
BUILDING
WITH US
Find information about designing and building with Unity.