WATCH THE NEXT CHAPTER
Unity client Matt Ferrell hosts a YouTube channel called "Undecided with Matt Ferrell" that has over one million subscribers. Matt is creating a series of videos about the design/build process for his new home. The first video focuses on the options Matt explores for building his home, the second video is about the panel prefabrication process, and the third shows the assembly of the shell on site. Here's how Matt sums up the process: "After seeing this in person, my main thought was, why aren't we doing this everywhere?"
"We have the potential to totally change the paradigm of home building. It's possible to build homes that use no fossil-fuels, and are more affordable. To build homes in several months that are around for centuries. To build homes that easily evolve as your life unfolds. We can build homes that do not have the defects that so many new homes do—homes that actually change the quality of your life. And we can do it in a way that is more predictable and less stressful… for ALL of us."
— TEDD BENSON, Founder
In Their Own Words
Inspired by the Team
I went to work for Unity inspired by the company's mission. I continue working here inspired by the people. Making high performance homes available to a broader market isn't easy, but if any team can crack that nut, it's this one.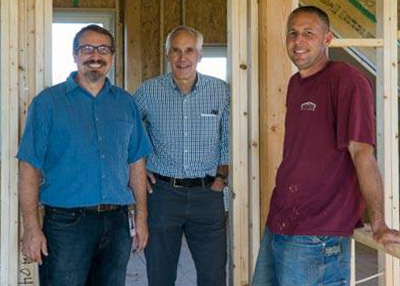 That's the "Why" of Unity Homes
We've come to understand a simple point: our clients—like everyone who decides to build—want to create a place that will improve the quality of their lives, period. That's the "why" of Unity homes.
Pleased and Impressed
During the life of the design-build process, we were extremely pleased with the level of knowledge and expertise, quality of craftsmanship, attention to detail, and the customer service focus demonstrated by the many trades people involved. We were also extremely impressed with the consistent high quality of the materials and products used in the construction of our home.
Working with the Unity Team
Everyone from Unity was friendly, knowledgeable, personable and a good listener.
Your Product is Fabulous
We are really quite happy; it's a beautiful house.
You guys should be proud.
Paradise
During the pandemic I was marooned in Paradise. I was a lucky woman!
I'm So Happy I Found Unity
Unity was wonderful to deal with. Every time there was an issue, Unity stepped up and took responsibility. When the issues were local, Unity was patient and helpful in resolving them. I'm so happy I found Unity!
We Love our House
…and we love looking out at the golden sunsets and gazing up at the exposed timber beams
Carpentry Magicians
The Unity carpenters who worked on finishing the house were magicians – they really were! Whenever an issue came up, they were always able to find creative solutions.
Quiet and Comfortable
This house spoils you because it's so quiet and comfortable!
Amazing
Every single person who worked on our project was amazing!
We Love our House
We love our house, we wouldn't change anything, we love Unity — it was a great experience overall.
The Future of Homebuilding
With labor shortages in the building industry, rising construction costs and the need to build 'greener' homes, we must find ways to enhance productivity, integrate energy-efficiency and reduce timelines to build. Unity is doing just that."
On Time and On Budget
It was a pleasure working with Unity and New School Builders to build our new home.  We found their staff to be very responsive and the quality of materials and workmanship to be top notch.  We've been through many building projects and this was by far the smoothest. We ended up with a great, energy efficient home that was on time and on budget
Running on Sunshine
Our home is working well for my husband and me, for our animals and for the planet!
A Retreat and a Refuge
Our intention was to create a space on this beautiful piece of land with a real sense of peace for ourselves and our friends and family. We wanted a retreat and a refuge, in an energy efficient home where we could age in place in beautiful surrounding. Unity helped us create exactly that.
Ease of Process and Positive Attitudes
It wasn't just the ease of the process that impressed us – it was everyone's attitude as well. We can honestly say that we had a really good time with the designing and building of our new home – and who says that?!
We absolutely love our home and can't think of one thing we'd want to do differently.
It's Energy Efficient
It's energy efficient. It lives really well. I love the look. It feels like I'm getting 'away' every time I come home.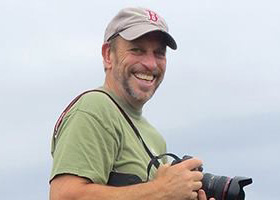 Incredible to Observe
What followed over the next five days was nothing short of incredible to observe.
Mind Blowing Impressive
Mind blowing impressive is the only way to describe your facility. Definitely the future.
Very Impressive
Everything from the screenshot meetings to the itemized pricing is very impressive. I don't consider myself the most visual or technically minded client, but you make it very easy. Having gone through this process, I'm not sure why anyone would want to build a house any other way!
I Could Not Be More Pleased
I could not be more pleased with the house and the awesome customer service. You guys made the process thoroughly satisfying and enjoyable – not something you typically hear about when building homes.
Have Both Design and Style
I was drawn to the design and style I saw, and to the green aspects. It was a real joy to know I could have both.
Efficiency, Health, and Durability
Unity homes are ultra high-performance homes including levels of energy efficiency, health protection, and durability that lead the industry.
Shaping The Industry
I enjoy working on homes knowing the impact that energy efficiency and sustainability have on the environment, comfort, health, and wellness. We are shaping the industry to hopefully demand better materials and processes to get to higher quality homes.
It Feels Beautiful
I could say that it is comfortable, that it is quiet, that it feels calm, peaceful, secure, and all that would be true; but it would miss the point. It is the feeling that I don't want to go anywhere else, I don't want to be anywhere else – it feels beautiful.